Digital Education Summit
Be part of a two-day event that brings together faculty and staff interested in utilizing tools, best practices, and emerging technology to improve and advance online teaching and learning.
With your help, we can continue to provide resources for best practices and share innovative ideas to take online education to the next level.
---
#DES18 Schedule
Day One

Critical Digital Pedagogy

Presented by: Dr. Ric Montelongo, Dr. Jason M. Payton, and Dr. Paul Eaton
RM 304

---

"If the Students Would Just Read!" Teaching Strategies That Compel Students to Read Before Completing Online Assignments

Presented by: Nancy Stockall
RM 307

---

Making Media that Matters: Digital Storytelling as Reflective Practice in Learning

Presented by: Dr. Karla Eidson
RM 308

---

The Picasso Project: From Digital Resource To Online Instruction Tools

Presented by: Dr. Enrique Mallen
RM 315

---

Barnes & Noble Education (BNED) Courseware

Presented by: Wayne Parkins
RM 319

---

Using Critical Reflection to Gain Insight Into Student Learning and Effect Dispositional Change Toward Critical Thinking in Students

Presented by: Steven Koether
RM 320

---
Exploring PBL in an Online Community: Problem and Project Based Learning

Presented by: Nicholas Grahovec and Dr. Mary Williams
RM 304

---

Productive Professors Persuasions: Technology to Support Teaching & Learning

Presented by: Dr. Kimberly LaPrairie and Dr. Marilyn Rice
RM 307

---

Teaching Online: Challenges and Instructional Strategies

Presented by: Dr. Nara Martirosyan, Dr. Troncoso Skidmore, and Dr. D. Patrick Saxon
RM 308

---

Beyond Written Comments: Providing Visual and Auditory Feedback in an Online Environment

Presented by: Wojciech (Voytek) Lorenc
RM 315

---

Office 365

Presented by: Natalie Payne
RM 319

---

Human Centered Curriculum Design

Presented by: Cesar Rivera
RM 320

---
Day Two

Fostering Student Engagement Through Gamification of Courses

Presented by: Trez Jones
RM 304

---

Interactive Skill Building: Using Screencasts to Mentor Students in Writing and Research

Presented by: Dr. Christopher B. Davis
RM 307

---

Engaging Online Students

Presented by: Brandy Doleshal
RM 308

---

Mobilizing the Learning Experience for Instructors New to Online Instruction

Presented by: Jeffrey Opaleye and Dr. Kenyatta Phelps
RM 315

---

How NOT to be a HOT Mess a.k.a. Getting Organized So You Are Better Able to Connect With Students

Presented by: Dr. Page Glave and Dr. Jennifer Didier
RM 319

---

Using Slack and Hypothes.is in a Graduate Research Course

Presented by: Paul Eaton, Miguel Arellano Arriaga and James Beeks
RM 320

---
Alternatives to High Stakes Assessment in Online Courses

Presented by: Dr. Donna Desforges and Madelyn Kilgore
RM 304

---

Here Be Dragons: An Exploration in Teaching a Graduate Mathematics Class Online for the First Time

Presented by: Mark Klespis
RM 307

---

Online in Half the Time??

Presented by: Barbara Polnick and Peggy Holzweiss
RM 308

---

Creating Online Communities: One Department's Approach

Presented by: Dr. Teri S. Lesesne
RM 315

---

Incorporating Dominant Learning Styles in Online Learning Environments

Presented by: Dr. Brooklynn Wynveen
RM 319

---

Student Interaction in a Learning Management System and a Conversational Agent System

Presented by: Donggil Song
RM 320

---
BreakoutEDU Learning Outside the Box

Presented by: Sherry Vafa and Charlene Murphree
RM 304

---

Using Blackboard Collaborate Ultra for Synchronistic Virtual Class Meetings

Presented by: Dr. Rebecca Schlosser
RM 307

---

Bring a Little "Reality" into Your Course

Presented by: Rachel Baxter
RM 308

---

Secondary Online Education: Thoughts for Education Students

Presented by: Kienia Green-Murindagomo
RM 315

---

Using Plickers to Create an Active Learning Environment

Presented by: Dr. Lisa Brown and Dr. Lautrice Nickson
RM 319

---

Access to Affordable Student Course Materials

Presented by: Ruth Chisum
RM 320

---
---
Keynote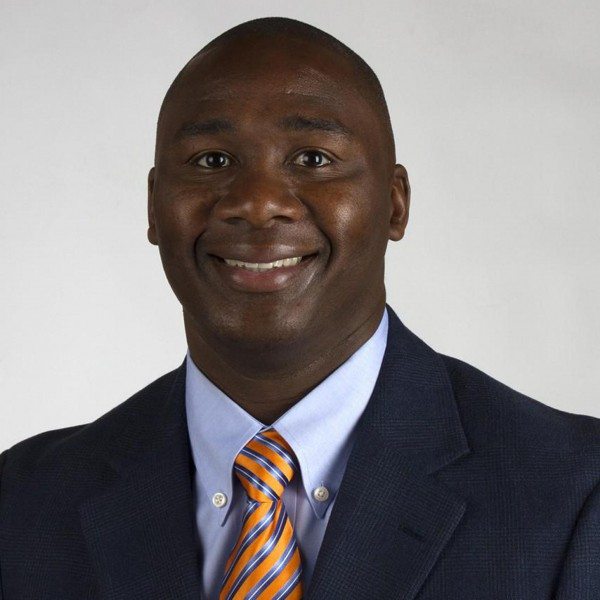 Leonard G. Geddes Jr
Mr. Geddes is an expert on learning improvement for college students. During the past decade, he developed The LearnWell Projects as a platform to provide practical, research-based support for college and university faculty. Mr. Geddes created the ThinkWell‐LearnWell™ Diagram, a metacognitive tool that helps students develop deep thinking and learning skills. The diagram is used by colleges, universities and K-12 schools throughout the world.
---
Venue
Lowman Student Center
1717 Avenue J
Huntsville, TX 77340
Get Directions
Dubbed the "campus living room", the Lowman Student Center (LSC) sits in the heart of the Sam Houston State University campus. Home to the University Bookstore, Kat Klub Entertainment Center, and Student Art Gallery, we're proud to host #DES17 in this incredible venue.
---
---